Competition Law in Vaccination
The ASCOLA Regional Chapter UK presents the next season of virtual talks over lunch, starting 17 March 2021: Competition law in vaccination! To join the mailing list and to be up to date with what is going on, please look out for ASCOLA UK on Twitter and LinkedIn or write to Or Brook and Magali Eben directly. For other events organised by our regional chapters please follow their activities on social media. There is a list of all Regional Chapters here that are active on social media, and you may look at the colleagues heading the regional chapters here.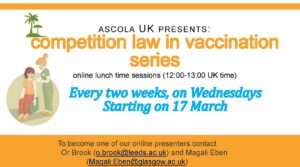 Competition Law in Isolation Talks
After lockdowns and travel restrictions set in, the ASCOLA UK Chapter under the leadership of Magali Eben and Or Brook started a series of virtual talks called "Competition Law in Isolation". This format developed to be an ace opportunity to showcase ongoing work and to discuss current issues of competition law.
Further competition talks have in the meantime been organised by other Regional Chapters of ASCOLA. We are happy and grateful for such a well-functioning network! Please check out the announcements on LinkedIn and Twitter or address the heads of the Regional Chapters for being included in the mailing lists.